Great Beauty, Great Sorrow 
This is my latest article for the Washington Post Travel Section: a trip to the historic leper colony on the most Hawaiian of Hawaiian islands: low-key Molokai ("Don't try to change Molokai. Let Molokai change you.") This expedition really moved me. I recommend it for everyone with an open heart and a sense of adventure.
https://www.washingtonpost.com/lifestyle/travel/on-molokai-a-visit-to-kalaupapa-national-historical-park-site-of-an-1860s-leper-colony/2017/11/01/34eb71b6-ba7d-11e7-be94-fabb0f1e9ffb_story.html?utm_term=.8aba74936f66
The Biennale in Venice: An Absurd Turn
When someone gets up and walks out of a performance disgusted, I often know I'm in the right place. That was the case at the Finnish Pavilion that is part of this year's Biennale Arte, the massive world-comes-to-Venice contemporary art bash. Two young Finnish masters of the absurd presented "The Aalto Natives," a mad multimedia experience that, in describing their country's deep past and murky future, turned me into a screaming howler monkey. The animatronic sculptures of God, a big blue talking egg with buggy little eyes, and Son of God, a box with human eyes cruelly ripped from a human specimen, transit from stage to screen where they bitch-slap topics from religion, politics, nationalism, and intolerance to What the Heck's the Matter with Finland? I fell hard for the Cosmic Duck and the wiggy Caveman buried according to his directions and against his will. Lots of sex! Dancing! Grotesquerie!  from the irreverent duo of Nathaniel Mellors and Erkka Nissinen. Quack, quack.
"The Aalto Natives" is a breath of hilarity in an often somber Biennale 2017, where Russian artists have created desperate half-formed prisoners trying to escape from stone (I was thinking "Michelangelo in Hell") and German performance artists creep around like zombies under a vertigo-inducing glass floor in a room smelling of hospital disinfectant. We loved the works of Romanian artist Geta Bratescu, whose painted characters and animals seemed pulled from Middle Earth, and the Far North art of Kananginak Pootoogook, the first Inuit artist to take part in the fest.
The Biennale, begun in Venice in 1893, runs from spring to fall in odd-numbered years and is well worth planning a Venice trip around (we went in October and avoided the long lines). This year's exhibit closes Nov. 26  (23.50 euros online, for both Biennale venues).  The 2019 event runs May 1-Nov. 30. And while you're there, be sure to visit the Peggy Guggenheim museum, with one of the best modern collections in the world. Enjoy:
Geta Bratescu
John Waters (!)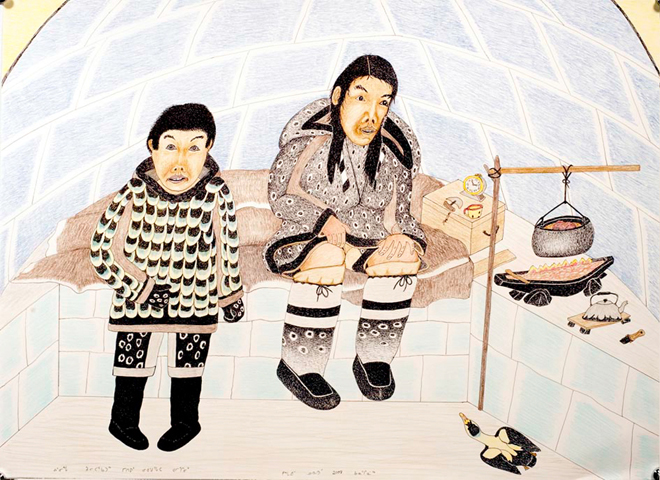 Best little wine bar in Barcelona
Zona d'Ombra is the coolest little wine bar in Barcelona. It's close by Las Ramblas, but tucked into an untouristed side street. Wines are beautifully selected, from all regions of Spain — love the grenache and syrah blends. Nice little tapas: croquettes, salted local peppers, green olives marinated with lemon, mint, and basil. All reasonably priced. Best, it's small, intimate, and totally charming. Super place away from the crowds to share a glass with a travel buddy. Website: www.zonadombra.es.
IS IT REAL. AND DOES IT MATTER? 
After four boys discovered the Stone Age Lascaux caves in 1940, chasing their dog down a rabbit hole and getting their minds blown, tourists flocked. But the visitors gave off heat, humidity, and carbon dioxide emissions that were not friendly to the paintings, and mold threatened the art. The cave was shut down to the public in the 1960's and work began on a replica, authentic in every detail, right down to the millimeter.
I wasn't sure about visiting a faux cave, now housed in a modernistic glass and steel building. Not the real thing, right? Partner Bob was super skeptical, and never quite got over the "fake" feel. But I was a sucker. After our guide advised us to take a moment, let our eyes adjust to the dark, and  took us down into the cold, dark cavern, I was gone, knocked sideways by the enormous, gorgeous, powerful animals that covered the walls, painted in ochres and bold black lines extracted from minerals some twenty thousand years ago.
I'd only seen small, flat images of these beasts. These weren't flat. The artists had shaded the animals in 3D, sometimes using scattered paint  blown through hollowed bird bones to get the depth. There were animals painted inside animals: babies? Many of the beasts were painted in motion, with several hooves to indicate running, or heads tossed in repeating patterns — the first animation. Whole herds of moving, 3D animals with small heads and round bodies stomped across limestone walls, their bodies conforming to the stone's contours.
I was astonished at the sophistication and beauty. Who were these people? Were these celebrations of the hunt? Living-room decor? Or were they images of worship? They would influence artists for decades after their discovery, including giants like Pablo Picasso and Jean DuBuffet. Interactive exhibits at the museum smartly explore these connections, linking paleolithic art to its modern progeny in surprising ways.
I felt a little smarter leaving than I arrived. I'd always thought of "cave men" as primitive dullards. Heavy brows, bent backs, huge clubs, linguistic grunts for communication. All instinct, no think. Wrong.
Timed entry is $16 euros. Book guided tour in your own language,  Website: http://reserver.lascaux.fr/en/to-do/a1324920/lascaux-international-center/showdetails